Our coaches are dedicated to the health, fitness and a positive impact of all athletes we interact with.
Our goal is to improve our member's quality of life by integrating a lifestyle of setting goals and achieving them. We provide an environment that gives people the opportunity to improve their physical and mental abilities. We take great pride in being part of the CrossFit community and will constantly evaluate ourselves to improve all areas of our organization.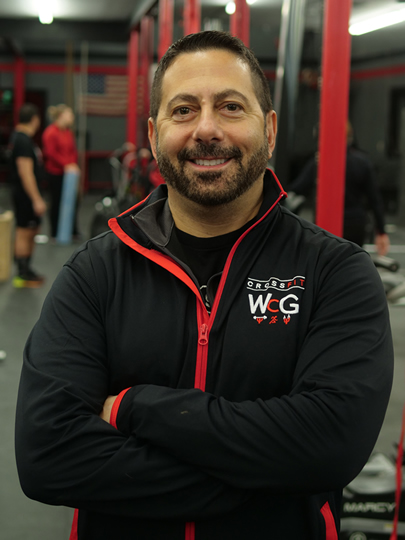 Bill Colavito, Owner
For the past seven+ years, I have immersed myself in the world of CrossFit and never looked back. I have pushed my body and endurance to the limits in bodybuilding, triathlons and marathons throughout the years, so I was instantly drawn to the fundamentals of CrossFit. I have been fortunate enough to be able to share my experience and knowledge to build the community here at CrossFit WcG. Being a CrossFit coach and owning my own affiliate has given me a new opportunity to help people progress, which I sincerely love doing. Establishing good habits through fitness and nutrition and helping people to reach their potential, inside and outside of the gym is our mission here at CrossFit WcG. I look forward to helping you in whatever your fitness goals may be.
Certifications:
CrossFit Level 1 Trainer
CrossFit Level 2 Trainer
CrossFit Weightlifting Trainer
CrossFit Gymnastics Trainer
CrossFit Rowing Trainer
Additional CE certifications in CrossFit Anatomy, Scaling and Judges
Former Group Fitness and Spin Instructor
CPR-AED Certified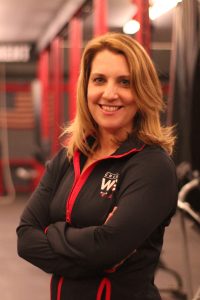 Michelle Carucci, Head Training Coach
My CrossFit journey began in May 2015. At the time I was working out in a traditional gym lifting weights, taking fitness classes and running. No matter how hard I trained I never saw the results I hoped for. I tried many of the classes, worked with personal trainers, and used the machines but I still had a hard time losing that extra 5 pounds.
In 2003 I became certified to teach group fitness, Spinning and Pilates. I've always enjoyed helping people reach their fitness goals and to become fit and healthy so I decided to become certified in CrossFit. In April 2016 I became a CrossFit Level 1 Trainer inspiring people to become the best that they can. I love helping individuals achieve their goals that they thought were impossible prior to walking into our box. I enjoy seeing the progress people make and the gains that they can quickly achieve while having fun. One member that I have worked with lost 14 pounds and dropped his cholesterol level by 95
points in just 5 weeks. His confidence has sky rocketed since he has started at our box. CrossFit has given me the confidence to achieve things I thought I was too old to ever do again. Walking into the box each day gives me a sense of belonging that I look forward to. I never dread working out again. Instead, I look forward to challenging myself, improving each time and helping others along the way.
Certifications:
CrossFit Level 1 Trainer
CrossFit Level 2 Trainer
NASM Certified Personal Trainer
Health Coach
CPR-AED Certified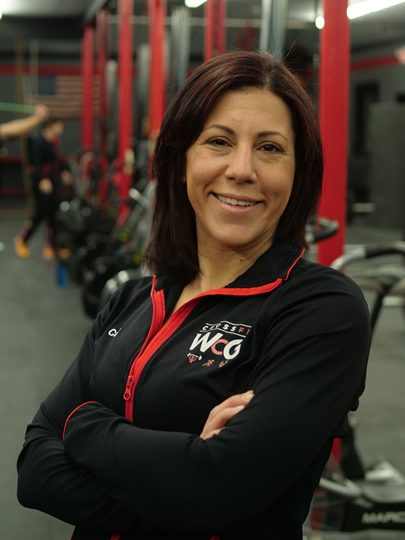 Cara Cioni, Coach
I have always been an active, athletic person. From a young age I was involved in gymnastics, volleyball, basketball and track. In my high school years the list dwindled down and for the four years I ran track and played basketball. As the years went on I went to the gym but was not anywhere near the physical shape I was in my younger years. I wanted to do something different but could not convince myself that trying something new in my late 30's would make a difference.
Well… I was wrong. Coach Bill Colavito kept talking about CrossFit and the more I heard the more I was both intrigued and intimidated! It took me weeks to gain the courage to come and try a class. That was over 4+ years ago and it is fair to say I was hooked from Day 1! I have gained so much strength and knowledge; I am surrounded by a community and a family that I cannot imagine my life without. CrossFit has truly impacted my life for the better. I never thought I would be lifting heavy weight, doing kipping pull ups and handstand push-ups!
I wanted to be able to give others what Coach Bill and CrossFit community has done for me. I have completed my CrossFit Level 1 training as well as other training's offered and now I am ready to share my love of CrossFit with others. I look forward to continuing my journey, continuing to learn and gain knowledge and continue to become better coach with the help and support of the CrossFit community.
Certifications:
Crossfit Level 1 Trainer
CrossFit Gymnastics
Scaling Certificate
Adam St. Ours, Coach
Fitness and exercise have always been a big part of my life. I wrestled at Ithaca College, then played rugby for 7 years after college.  I had always been a "weightlifter" to help me in sports, and I tried to avoid cardio as best I could. I first was exposed to CrossFit 6 years ago, then began experimenting with it on my own at the local gym. I joined WcG shortly after they opened, where I learned to Embrace the Suck of cardio and gymnastics. I enjoy helping people accomplish things they never thought they were capable of. I'm an avid skier and general lover of the cold..
Certifications:
Crossfit Level 1 Trainer
Power Athlete Block One Coach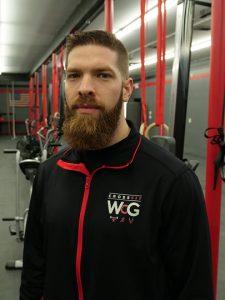 Scott Cooper, Coach
I have been racing mountain bikes professionally since I was 18 years old and was looking for a way to keep fit and to train during the off season. My wife gifted me a WcG punch card for Christmas in 2016, and I immediately found a new passion that challenged even my love of mountain bike racing. It didn't take long for the strong community and tangible training results to get me hooked long-term. A natural understanding of body mechanics and a curiosity to learn more led me to complete my CrossFit Level 1 Certification in October 2017. I am not only excited to continue on my own journey, but to share what I am learning every day with new members of the CrossFit community.
Certifications:
CrossFit Level 1 Trainer
CrossFit Scaling
CrossFit Judges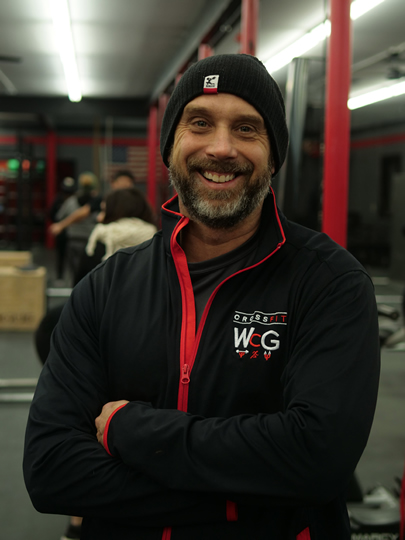 Michael Dolobach
I was introduced to CrossFit through a friend in 2014. My workouts were done out of a garage BOX, and I visited a CrossFit Affiliate on the weekends to do the daily WOD. In doing so, I found the camaraderie in the CrossFit Community which I have never witnessed in any other gym environment and have been hooked ever since. In April 2016, I joined CrossFit WcG and in August 2016 I obtained my CrossFit Level 1 Trainer. "People think they need to be fit or in amazing shape to start doing CrossFit, and that just isn't the case. It's all about scaling appropriately to each individuals' level of fitness, and I'm confident our coaching staff has the competency to do that in the right way. This program is for anybody and everybody - the only requirement is a commitment."
Certifications:
CrossFit Level 1 Trainer
Matt Almeida
Certifications:
CrossFit Level 1 Trainer