Washington Barbell Club
August 19, 2017
Washington Barbell Club is coming to CrossFit WcG in September 2017, and powered by Coach Adam St Ours. This is an added strength and conditioning program for our members.
This will not replace the daily WOD, but rather supplement it with traditional strength and power building movements. This will not be an Oly skill class, though Oly lifts may show up occasionally. These movements are designed to make you more powerful and explosive in all aspects of life, including CrossFit. "If you want to make things easier, get stronger." That mindset is the basis of Barbell Club.
The program will be 3 days a week, and the work is to be done at your convenience. While 3 days will get you the fastest and best results, you can see significant improvement with as little as 1 or 2 days a week. We will be offering more Open Gym sessions to help you accomplish this. Each workout will be 3 or 4 different exercises, and should take you 30-40 minutes to complete. Everything is scalable to any ability level.
Monday: 5pm
Tuesday: 7:30pm
Wednesday: 5pm
Thursday: 7:30pm
Sunday: 9am
Lurong Living Summertime Challenge
April 22, 2017

We are doing the 2017 Lurong Living Summertime Challenge! If you are looking to make some serious improvements to your diet and fitness so you can achieve your goals, this is your answer. We will be forming a team to work together and even compete against boxes across the country. It combines nutrition and weekly WODs. Everyone can contribute, so we want everyone to make the commitment now. Whether your goal is to lose weight and look amazing in your swimsuit, or you are looking for serious performance gains, this Challenge is for you.
What is really cool about this Challenge is that all your points are calculated on the site and all the points you earn will benefit our team. You get to see exactly how much you improve your body composition and performance. There are 2 options for approaching your diet: Classic and Macro Focus Diet, and they give you all the tools you need to succeed. Nobody has an excuse to sit this one out!
It comes with weekly meal plans, recipe books, and tons of online support. Bottom line, we want everyone to get involved and do it together. You can compete for the team and as an individual at the same time, so there is something for everyone. It will be an experience you won't forget!
Check in for Charity
September 1, 2016
WcG members:
CrossFit affiliates around the world invest in communities and always find ways to give back.
At CrossFit WcG we plan on continuing that tradition and giving back to our local community!
For the entire month of September, WcG will donate .50 cents per "FB check in" to the organization/charity our members selected. Please check the white board for more details about the cause we are supporting this month!
Crossfit for a Cure!
August 21, 2016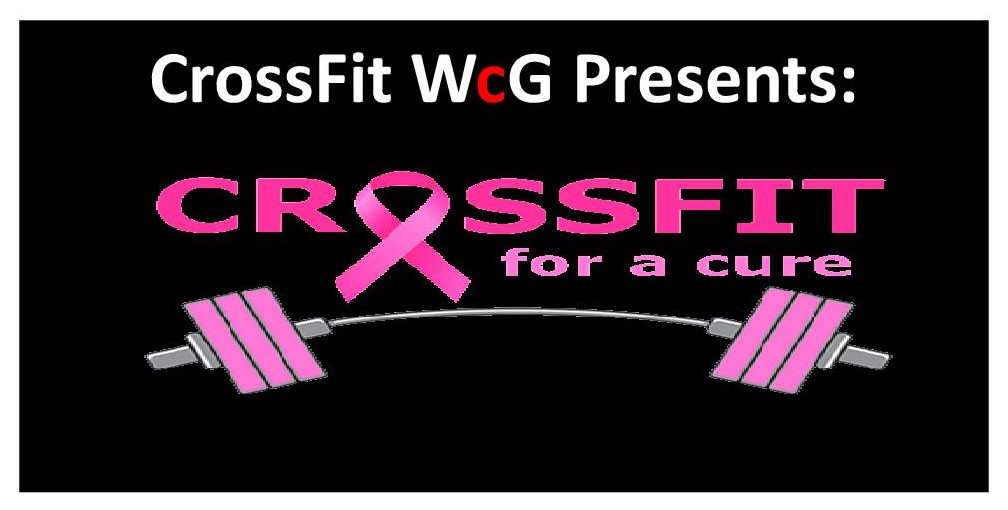 Two of our members will be participating in the Susan G Komen 3 Day Walk. They will each walk 60 miles to raise awareness and funding for breast cancer. Our box is dedicated to their success and we are doing our part to help them reach their fundraising goals.
Gather your 2 person team (co-ed or same sex) and join us on
September 25, 2016 at Crossfit WcG for "Grace, Cindy and Annie"
EVERY WOD IS SCALE-ABLE TO YOUR FITNESS LEVEL!!
GRACE:
30 Clean & Jerks
CINDY:
5 Pull ups
10 Push ups
15 Squats
*8 rounds, each partner will do 4 rounds
ANNIE:
50-40-30-20-10
Reps of Double Unders (or 2x singles) & Sit ups
**reps can be split up in any fashion between partners
5 teams per time slot, each slot will be 30 minutes starting at 8:30am and ending at 12:00pm.
Save some time to join us for other fun athletic activities throughout the day!
384 East Washington Ave. Washington NJ 07882
Work Out, Raise Money & Support Breast Cancer Awareness!!
Please be sure to wear PINK for Breast Cancer.
We will also have a Tricky Tray Auction to help raise additional money for our cause!
All levels of fitness are encouraged to join us for a morning of fun & fitness.
$25 donation per teammate is suggested.
To register for the event and make your donation please CLICK HERE to visit the Google Form.  Follow the instructions on page 1 and page 2.  
Contact us at (908)310-5439 or civice@comcast.net with any questions.
What's new at WcG??
August 10, 2016
So, your friends think you're crazy. They just don't get your CrossFit obsession. So, why not invite them to come to our Bring a Friend Fridays and let's show them?? We will team you up with them to do a "Friendly" Partner WOD. We will keep it guest friendly and utilize all three modalities while pushing them ever so slightly beyond their comfort zone.
We are also excited to announce our New Member Incentive Program!
For every "friend" that signs up- you both get 1 month free!
*friend must commit to a 6 month membership.
Olympic Lifting Program
August 6, 2016
WcG is thrilled to have have Coach Rob Bishop, a seasoned Olympic lifting coach and trainer, design an Olympic lifting program specifically for our members. It will be a 6 week program on Sunday mornings Starting tomorrow August 7th, 2016. Please arrive at 8:30am for 1 hr of instruction and execution. The goal of the class is to give special focused in depth training that normal class times don't allow. You will learn from the best and it will be instrumental to your growth.
CF WcG First Annual Memorial Day Murph
May 27, 2016
Hero workouts are symbolic gestures of respect for our fallen. CrossFitters from all over the world, regardless of country or allegiance, throw themselves wholeheartedly at these intentionally gut-wrenching workouts that serve as a tribute to our lost protectors.
Once a year CrossFit boxes across the nation take pause on Memorial day and throw down on one of the most well known Hero Workouts. MURPH. The workout consists of a one mile run, 100 pull ups, 200 push ups, 300 air squats, and another 1 mile run...for time. Athletes are encouraged to wear a weighted vest if they have one, but like all other WOD's Murph can be scaled, so do not be intimidated by it!
CrossFit WcG will honor this tradition by holding our first annual Memorial Day Murph Workout. We will be running heats starting at 8:30am . There will be no other WODs that day. Together we'll tackle the workout and honor the memory of one of America's fallen sons.
Murph -Why We Do It
From the The Box Life Magazine, May 25, 2016 (Read the full article here)
Every year on Memorial Day weekend, CrossFitters in affiliates across the world perform the Hero workout, 'Murph'. It is a workout that has become synonymous with CrossFit, not just for its brutal toughness, but for what it represents. 'Murph' is not simply another workout we do in a class to increase our fitness before moving on to whatever else we have going on in the day. It is a workout designed to honor and remember the men and women of the armed forces that have lost their lives in defense of our freedom. And as is the case with every Hero workout, it has a story of courage and sacrifice behind it.
'Murph' is named after Navy Lieutenant Michael Murphy, who was killed in action in Afghanistan June 28th, 2005. He was 29-years-old. After graduating from Penn State University in 1998, Murphy rejected offers to attend law school and instead accepted a commission in the United States Navy and became a SEAL in July 2002. For a man whose nickname was 'The Protector', the decision made perfect sense. In fact, when Murphy was in the 8th grade, he was suspended from school for fighting with bullies that were trying to shove a special needs child into a locker. And Gary Williams, author of "Seal of Honor," a biography of Murphy, recounts a story where Murphy protected a homeless man who was collecting cans from a gang of thugs.
In early 2005 Murphy was assigned to SEAL Delivery Vehicle Team ONE as officer in charge of Alpha Platoon and deployed to Afghanistan. In June of that year, Murphy was leading a four-man reconnaissance team in Kunar province as part of a counter-insurgent mission (the other men in Murphy's team were Danny Dietz, Matthew Axelson and Marcus Luttrell). During the mission the team encountered a group of local goat herders.
A discussion was held among the four SEALs regarding the rules of engagement and what they should do with the herders, who were being held at gunpoint. Eventually the men decided to release them, but not soon after the SEALs were surrounded and ambushed by an overwhelming Taliban force. Murphy, who was trying to reach HQ via satellite phone, willingly exposed himself to enemy fire by stepping into a clearing where he might get a signal to make the call. Murphy was shot in the back, but still managed to calmly complete the call for reinforcements and return to his position to continue the fight with his men. HQ sent an MH-47 Chinook helicopter to rescue the team, but while attempting to set down in rugged terrain, the helicopter was hit by a rocket-propelled grenade, killing all 16 men on board.
Murphy, Dietz, and Axelson were all killed in action. Luttrell was the only survivor and was eventually rescued after several days of wandering the mountain and being protected by the people of an Afghan village.
The actions and story of the SEALs on June 28th, 2005 are portrayed in the film 'Lone Survivor'
Murphy was posthumously awarded the Congressional Medal of Honor for his courage and sacrifice that day. All three of his men were awarded the Navy's second-highest honor, the Navy Cross, for their actions. The men who were killed in the rescue attempt were also honored. These included Petty Officer 1st Class Jeff Taylor and Lt. Michael McGreevy, who were posthumously awarded Bronze Stars for Valor and Purple Hearts. CrossFit HQ's Russell Berger, who served in the 1st Ranger Battalion, writes of these men: "These men were fathers, husbands and sons. They were brothers to their fellow SEALs. They were also CrossFitters. In their actions, these men embodied the values and spirit of true heroes, and to immortalize their courage, bravery and self-sacrifice, the CrossFit Hero workouts were created."
CrossFit Open - the First Path to the CrossFit Games 2016
February 2016
At the heart of CrossFit is a dose of healthy competition. If you have been doing CrossFit for awhile and are looking for a way to keep yourself motivated and excited, then you should seriously consider enlisting in the CrossFit Open. The Open is the first step to qualifying for the 2016 CrossFit Games.
What is the Open you ask? The CrossFit Open is a series of workouts ranging over five weeks. Each Thursday, one workout will be announced live on the CrossFit Games website. Workouts are identified by the year and number in which they appear in the line up. For example, the first workout would be titled 16.1.
The CrossFit Open schedule is as follows:
16.1: February 25 -February 29
16.2: March 3-7
16.3: March 10-14
16.4: March 17-21
16.5: March 24-28
During the five weeks, each workout will be announced live at a different affiliate and will be performed by a group of athletes. Once the workout is provided, anyone registered for the Open has until the following Monday to submit their scores online. All scores must be submitted by 5pm (PT).
In order to compete in the CrossFit Games, contestants must first qualify and make it through in their region during the CrossFit Open. Initially begun as a way to sift out the most elite athletes, it has also become a time of year where CrossFit aficionados push themselves and set higher goals for the coming year.
If you are on the fence about signing up for the CrossFit Open, here's why you should:
Represent your affiliate
Be part of an international event
Push yourself to achieve maximum results
Scores are used to determine each Boxes weakest skill in comparison to others in your area
Data from these scores is used to determine workouts for the following year
Novice or Expert
Whether you are new to CrossFit or consider yourself a pro, registering for the Open can be beneficial to both. For novices, the Open can mark a new beginning in your fitness routine and give you confidence in seeing all that you can achieve. It's a way to work through your fears and get focused on what your body can do.
For experts, the CrossFit Open is a wake up call for those that haven't really been pushing themselves as hard as they should. It is a time to reflect on the accomplishments of the year and set higher goals for the future. Competition has a way of awakening your inner strength and helping you excel past your current fitness level.
Athletes over 40 years of age will automatically be entered into the Masters Division. The Masters Division is broken down into the following age groups: 40-44, 45-49, 50-54, 55-59, 60+. These athletes must then earn a spot in the Masters Qualifier which means they have to be among the top 200 athletes worldwide. The top 20 in the Masters Qualifier are then given a spot to compete in the Games.
History of the Games
While most of us will not actually get to the CrossFit Games, the Open allows everyone to participate for the fun of it. The first ever CrossFit Games was in 2007 in Aromas, CA and it is only getting bigger. In 2009, Regional qualifying is introduced in order for the best athletes to get a chance at competing. In previous years, it was a first come first serve competition.
In 2011, CrossFit partners with Reebok and the Games are televised live on ESPN3. Over $1,000,000 in prize money is given away. Awards go to Male Champion, Female Champion, Affiliate Cup, and Masters Men and Masters Women according to age group. It is also the first year that the internet based competition is utilized to determine which athletes are awarded Regional spots.
The CrossFit Games continue to grow in numbers due to the increasing popularity of CrossFit and its dedicated members. CrossFit is not only an exercise regimen, it's a way of life shared with a community of people that become a tight knit family. If you haven't tried it yet, you're missing out! Look for the CrossFit Open coming your way soon!