Member Highlight
August 24, 2017
Michelle Carucci
"Since I've become a coach, I've started eating clean and exercising regularly…I never imagined that I would be climbing a rope, doing handstand push-ups, or lifting a barbell heavier than 20 pounds over my head. I'm amazed at how far I've come since the days of working out at a regular gym." -Michelle Carucci
Each morning, at 6 am, you can find Michelle walking through the door of CrossFit WcG with a smile on her face. Her positive outlook, constructive support, and encouragement as a coach, are why we spotlight her today.
Michelle's CrossFit journey began two years ago, before the box officially opened. Her first official CrossFit WOD? "Murph". Traditionally preformed on Memorial Day, "Murph" is known for its unyielding combination of calisthenics and running: 1 mile run, 100 pull-ups, 200 push-ups, 300 air squats, 1 mile run. Michelle modified the movements of this grueling workout with the help of Coach Bill, and worked alongside another member, Julia, who cheered for her the entire hour. Exhausted both mentally and physically, Michelle realized just what an accomplishment it was to finish "Murph". She was hooked!
Over the past two years, Michelle has steadily improved as an athlete. Her passion for CrossFit became ingrained into her life. In 2016, Michelle realized she had the motivation and disposition to help others on their fitness journeys. In April, she became a certified CrossFit Level 1 Trainer. As a coach, Michelle watches, listens, and assists, ensuring that each athlete is preforming the movements with the proper form. During the WOD, when fatigue sets in, Coach Michelle is there to motivate and encourage the athletes to dig deep and persevere. When her athletes feel successful, so does she.
Her advice on trying CrossFit if you're feeling anxious?
"Stick with it! Come on a regular basis and don't compare yourself to others. Find your starting point and only compare yourself to your prior workouts. It takes time and practice. I'm still growing! Have fun and don't be too hard on yourself. Had a bad workout? Tomorrow is a new day, a new workout. See you at the box!"
Thank you, Coach Michelle, for your dedication as a founding WcG member and Coach! Your consistent optimism and support helps to maintain the welcoming atmosphere at the WcG box!
Monday Member Highlight
July 24, 2017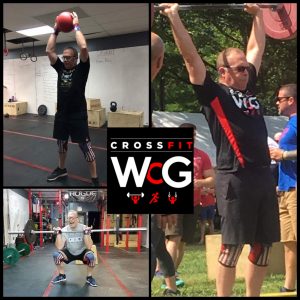 Dave Dresser embodies all the qualities of a team player; always doing more than asked. He has—quite literally—helped to build the foundation of WcG. From laying down the flooring of the box to setting up new equipment, Dave was there day in and day out helping to get ready for the grand opening of CrossFit WcG.His dedication to the box does not stop at manual labor; Dave can often be found at cheering on and supporting other athletes. When he heard that more judges were needed during the CrossFit Open, he took the training and became a certified judge. Dave adapted his schedule during those five weeks of the Open—sometimes coming to the box several times a day—so all WcG members who wanted to participate were able.
Dave has always enjoyed being outdoors recreationally, camping or playing golf. Nevertheless, his commitment to himself and his health beganin earnest in 2014, when he began working with Bill. His cholesterol was high and he had been taking medication for years. Struggling with some of the basic CrossFit movements,the coaches and Dave worked together to scale the workouts so he was actively able to participate. Dave's smile, encouragement, and humor quickly became a staple during the 6 am WOD. Always leading by example, Dave pushed his limitations a little further each class. Three years later, at 59,Dave no longer takes medication for his cholesterol, is down over ten pounds and has lost over three inches from his waistline. His strength has also improved considerably. Coming back to the box in the evenings, Dave can often be found attending the Olympic lifting classes,to strengthen his weaknesses. In a competition on Sunday, he was required to complete a Bear Complex, a challenging movement consisting of a power clean, front squat, push press, back squat, and a second push press. Completion of all five lifts is considered one rep. Three years ago, Dave struggled with basic CrossFit skills. On Sunday, Dave completed the Bear Complex with a weight of 155 pounds. Currently his deadlift personal record is 345 pounds.
So, today we raise our IPA's to toast a man whose caring, supportive nature is an integral part of the WcG family.
Monday Member Highlight
July 10, 2017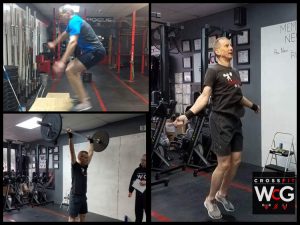 "The WcG culture that Bill has fostered is one of community and camaraderie over competition…it's an environment where Masters are welcomed!" – Gene Zimmermann
Our Member highlight today is to spotlight Gene, one of CrossFit WcG's founding members. Three years ago, Gene became interested in boot camp style classes. Through Coach Bill, Gene found that he enjoyed building his strength and fitness through a variety of intense interval training and followed Bill to CrossFit WcG,
A Sunday afternoon in March 2016, Gene showed up in Bill's garage to test his limitations with the CrossFit Open. 5 weeks of intense workouts designed to find weaknesses in even the elite athletes. 16.4 was his favorite type of WOD- Metabolic conditioning with weightlifting: 55 deadlifts, 55 wall ball shots, 55 calorie row, 55 push presses. In 13 minutes, Gene was able to complete 175 reps. A year later, a year stronger-and more determined-he competed in the 2017 CrossFit Open. The success was measurable; same workout, same weights, same time restraint. Gene was able to complete 201 reps- 26 more than the year before! Gene found that at 57, his core, upper body strength and stamina are at a level that he didn't possess in his 20's.
Gene's growth and development continues to be gradual; he continues to be patient with himself and constantly perseveres through the challenging workouts. He pushes his limits and works outside of his comfort zone. CrossFit is not only strengthening Gene's physique, but developing a mental toughness that is critical to growing his confidence and entrepreneurial career as well.
Outside of the CrossFit world, Gene can be found working with his wife Mary, the founder of Sophoz Wellness. Together they tailor his nutrition for optimal wellness. Gene also selflessly serves other men in the Christian ministry, Marked Men for Christ, as the New Jersey meeting coordinator. We are so proud to have Gene and his persevering spirit as part of our WcG family!
Monday Member Highlight!
February 13, 2017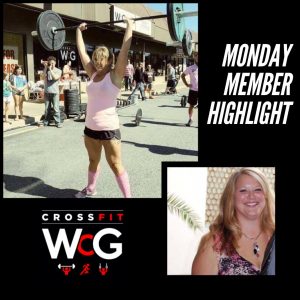 Brandy Civick
Age:
38
When did you start doing CrossFit?
Officially started Crossfit when WcG opened, prior to that I was at a local gym with Billy in a boot camp style class. I followed him during the transition from gym to box, that's where I started to become more familiar with Crossfit.
Favorite kind of WOD:
I LOVE squats...Front, back, OH!! All things related to a squat!
Least Favorite kind of WOD:
I truly like everything we do, although I tend to complain the most when I see overhead presses. I just think with every grunt and groan I'm getting stronger.
Describe your first day at CrossFit WcG:
I was exhausted and thought what the heck did I just put myself through, no way am I ever coming back!! Then the fist bumps and high fives came around and I was like ok see y'all tomorrow! lol There's truly no other place like WcG!
What sort of changes have you seen in your body, health and fitness since joining?
I'm much stronger now than I was a year ago, that's for sure. I say all the time "I wish I had found Crossfit sooner, if I had only known then what I know now."  WcG has helped me to be a stronger, fitter, healthier person.
What's your favorite Crossfit WcG moment?
My very first competition. I remember when I first started Crossfit and Coach Bill had said to me, "One day you will compete and you will be great and I thought this guy must be seriously crazy to think for a minute that I would be strong enough and fit enough to even consider it. He believed in me more than I believed in myself! Since then I've competed in several Crossfit competitions and couldn't be more proud of myself. The friendships and bonds that I have made since joining are truly something special. We support and encourage one another like nothing I have ever been a part of.
What are your hobbies or interests outside of CrossFit?
I love the beach and being with my friends and family. I have 3 young children that are my world, and we certainly keep busy!
Any advice for people just getting started:
Honestly... just do it, don't think that you can't, not even for a minute because you can! Every WOD is obtainable; you can modify everything to your individual level. The best part, as time goes by you can look back and say geez 'a few months ago I couldn't do that and look at me now.'
Anything else you would like to Share!?
I have spent most of my life on "yo-yo" diets that really didn't work. I joined a traditional gym in 2011at nearly 240 pounds and that's when I decided no more, I was determined to stay committed, and I did. Crossfit has become a game changer and lifestyle for me. I have good days and not so good days, I'm a work in progress! I've managed to loss and more importantly keep off 73 pounds since starting my journey in 2011.
Transformation Tuesday!
January 31, 2017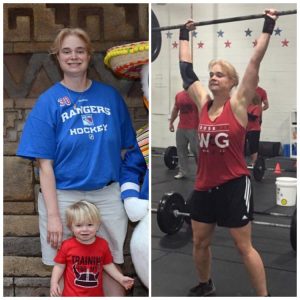 Holly has been on a mission to lose weight and redefine her physique for some time now. In May of this year, Holly joined CrossFit WcG looking for a change in her workout routine. She has stayed committed to her health and fitness journey. Since then she has learned skills she never thought possible... pull ups, box jumps, Olympic lifts and even rope climbs! Since joining WcG, Holly has made an incredible difference in her physique, weight, overall strength and conditioning.
Holly says "I really enjoy the workouts, encouragement and the support from the coaches and members. With their help, I have become stronger and more confident with my workouts. I have also dropped 24 pounds since starting in May. I couldn't be happier with my results."
We are extremely PROUD of you Holly and your hard work and dedication to be the best version of yourself possible!
Transformation Tuesday!
January 3, 2017
We first meet Dina in my garage during our transition to WcG box. Dina came to try out CrossFit. From the first day, it was obvious Dina was committed to trying something different that would help her lose weight. Dina is probably one of the most "open" people you will meet. So, letting us all know she was 267lbs pounds was no secret!
I remember Dina's first day very clearly. I felt bad, worried, supportive and inspired all in the one hour that Dina was there. The workout - we modified and Dina did her best, never giving up. She couldn't lift herself off the floor, she couldn't hold herself on a hanging bar, she couldn't step on a box higher than a few inches. But, Dina did not give up. She only tried harder!
Fast forward to today... 8 months later Dina has stayed committed and to date has lost over 50lbs, reshaped her body and achieved and exceeded several milestones. Dina can box jump a 20" box and easily. She can do a hand stand and hold herself while doing upside down push-ups. She can now not only hang from a bar she pulls herself up! She does burpees, lifts heavier weights than most men... and next a rope climb!
Keep up the great work Dina! We are all so proud of you!
Monday Member Highlight
January 2, 2017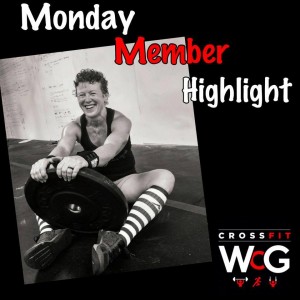 Julia Dresser
Age: 56
When did you start doing CrossFit?
I started a couple years ago when Bill began teaching "Bootcamp" classes at Gibson's Gym twice a week. Then after a while he started talking me into coming on extra days to work on lifting. When he left Gibson's in April my husband Dave and I went with him, first to his garage and then in May to his new CrossFit WcG box. Now we go pretty much 5 days a week for the WODs. And we are also going back in the evenings to work on lifting.
Favorite kind of WOD:
Chippers and partner WODs.
 Least Favorite kind of WOD:
Anything with Overhead Squats!
 Describe your first day at CrossFit WcG:
I don't really remember the first day at WcG because it was a gradual transition from the gym to garage to box but I do remember the feeling of being part of a special group of like-minded people! It was exciting to see Bill's dream come true.
What sort of changes have you seen in your body, health and fitness since joining?
I have been very active for years so I have been happy with my body and my fitness. The difference now is the enjoyment I get out of going to the box everyday. I'm never bored like I used to get going to the gym. Every day is different and challenging.
 What's your favorite Crossfit WcG moment?
It's all the moments. From being greeted every morning when I walk into the box by the coaches and other members to hanging out after the WOD working on various areas to improve on. It's the feeling of going to a competition with a great group of people who encourage and support each other!
 What are your hobbies or interests outside of CrossFit?
I'm an avid runner with a great group of family and friends to run with. I also love to ski, kayak, hike and camp. And I really love food and wine!
 Any advice for people just getting started:
Don't be intimidated! Every WOD or exercise can be scaled to your current fitness level. Everyone at the box is working on getting better at something and will be there to cheer for all the members at WcG!
It really is a community! I knew many of these members from the gym but in passing only. Working out at CrossFit WcG has brought us all so close together. Dave and I have a huge group of new friends!